These are the 120+ hidden iOS 11 features that didn't get stage time during Apple's WWDC 2017 opening keynote. When Craig Federighi, Apple's senior VP of Software Engineering sets foot on-stage at WWDC, you know something good is on the horizon. WWDC 2017 was no different,WWDC 2017 was no different, and while the opening keynote has now come to a close, the dust is starting to settle on yet another iOS revision that promises to bring lots, and lots of new features.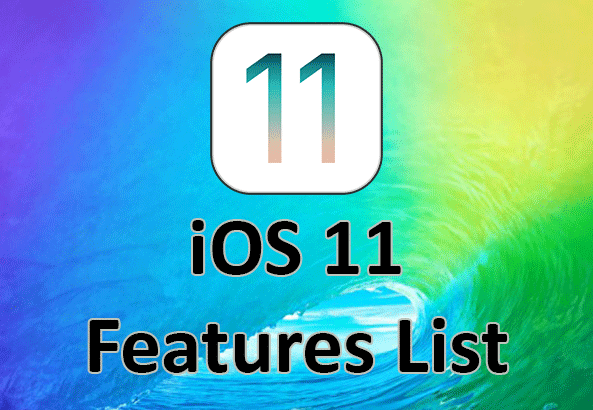 Apple didn't not announced these features are included, but it doesn't mean that they are not there.In that previous apple announcements, they were focus on some key new features.But apple always make some more changes and doesn't tell us about, or at least doesn't make a big fuss of because while developers may find them fascinating. Let see what are these features that you haven't heard yet. If you want to download and install iOS 11 to your iOS device, check below link.
Whats are the list of hidden iOS 11 features
2-factor authentication now mandatory
3D Touch for Safari tab switching
3D Touch for Lookup
Auto-Answer Calls
Apps using location in background highlighted with blue bar in status bar
AirPods can now move between next and previous tracks with a tap
AirDrop icon for apps in iPad dock like in macOS
Accounts & Passwords section in Settings
Advanced WiFi analytics
Automatic setup via iCloud
AirPlay 2 with multiple-room audio
Background App Refresh gets new options
Built-in Apple TV remote in Control Center
Business Chat preview
Carrier data usage
Create watch face for Apple Watch from Photos app
Change key frame for Live Photos
Continuity support in iPad dock
Customizable toggles in the new Control Center
Camera QR code scanning support
Definitions, conversions and math in Safari
Disable Press for Siri option
Drap and drop also supports multiple drag and drop of items
Dotted icons for cellular signals changed back to bars in status bar
Drag and drop on iPhone in Files and some other apps
Disable Wi-Fi Auto-Join on Access Point basis
English input for Japanese Romaji keyboard
English on 10-key Pinyin keyboard
Enhanced Switch Control typing
Enterprise network security
Expanded braille editing
Enhanced Dynamic Type support
Flight status in Spotlight and Safari
FaceTime Live Photos
Files app replaces iCloud Drive app
Floating window on iPad
Facebook, Twitter, Vimeo, Flickr integration removed
GIFs animate in Photos app
Hindi dictation
Health data sync via iCloud
Hidden volume HUD UI when music is playing
HomeKit enhancements
HomeKit tap to set up
HomeKit occupancy and duration triggers
Hidden photos only appear in Hidden album, not Camera Roll
iCloud file sharing
iCloud family storage plans
iCloud remote backup
Inline drawing in Notes app
Invite family with iMessage
iMessages sync over iCloud
Kannada, Malayalam and Odia keyboards
Maps entrances to landmarks in China
Markup also supports Apple Pencil
Multitasking with four apps at once
Move multiple apps at once on Home screen
Markup in PDF
New Arabic system font
NFC reader mode
News Video in Today View
New icons for iTunes, App Store, Calculator apps
No labels for apps in dockNew privacy options for Safari in Settings
New iMessage effects
NFC now open to 3rd-party apps
New Passcode UI on Lock screen
New Lock screen fade animation
New app launch animation
New purchase overlay in App Store
New numeric keypad
Notes app works with Apple Pencil with tap on Lock screen
New persistent banner type notification
New Live Photos effects
One new wallpaper
Offload unused apps
One-handed keyboard
One-handed zoom in Maps
Play FLAC files
Persistent app pairing in iPad app switcher
Peer-to-Peer Apple Pay
Phone number as Apple ID in China
PDF annotation in iBooks
Portuguese and English bilingual dictionary
Personalized Top Stories in News
PDF accessibility
Password autofill for third-party apps
Pinned Notes
Paper type in Notes app
QuickType keyboard flick on iPad
Quickly share screenshots as soon as you take them with Share Sheet
Redesign Now Playing music widget on Lock screen
Redesigned battery status bar icon
Redesigned volume HUD in video
Revamped UI of system media player
Revamped transaction screen for Apple Pay
Redesigned Podcasts app
Redesigned invert colors
Russian and English bilingual dictionary
Spoken/Braille captions for video
Spotlight tab in News
Streamlined family setup
SOS on iPhone
Safari safe browsing for China
Siri can now follows up on questions with context
Screen recording
Storage optimization
Share URLS with 3D Touch in Messages
SMS fraud extension
Screenshot and markup
System-wide bolder text
Pause for iCloud Photo Library sync
Storage and iCloud Usage tab now called "iPhone Storage" in Settings
Support for 32-bit apps removed
Support for 32-bit devices removed
Siri & Search pane combined in Settings
Share WiFi password with friends and guests
Siri translation
Smart Invert (dark mode)
Switch keyboard on the fly when dictating text
Search handwritten Notes in Spotlight
Shut Down option in Settings > General
Search tabs in Safari
Safari scrolling matches iOS scrolling
Speed limit in Maps app
Slidable Control Center
Taking a photo with your phone flat will now show you a spirit level
Traffic camera alerts in China
Type to Siri accessibility (typing queries to Siri)
Tap-to-join meetings
Taking a screenshot displays a preview thumbnail opens a Markup editor
Timers tab in Clock app adds seconds
Tweaks to Weather app
Tables in Notes app
Trim Live Photos
Turn webpage into PDF
Top hits in Mail
Updated UI for Siri
Updated Siri voice
Unified iCloud Drive trash
Updated phone app dialer
VoiceOver descriptions for images
WiFi password sharing
WebRTC support
Zoom in native system video player
Do you want to compare the appearance of iOS 10 and iOS 11 ? Just check blow link with iOS 11 Vs iOS 10 screens.
We hope you got know  what are the hidden iOS 11 features. Furthermore, follow us on Twitter, like us on Facebook and add in Google+ circle to get latest updates and iOS news via social media.