If you are an iOS user, I hope you might heard about jailbreak. Every operating systems has some limitation of security. Mobile phone also have same security limitations. So, people try to get access by breaking limitations. This thing are called jailbreaking for iOS operating system. Experienced programmers do some procedures to get permission to root access iOS system and removing some software restrictions imposed by apple company. Therefore, we can jailbreak iPhone, iPads and iPods. Some people are say Why You Should Jailbreak iPhone even apple provide all facilities. Hence, today we will talk about 15 top reason why should i jailbreak my iOS 10 in 2017.
Read: What is Cydia Apps and Cydia Basics
           Everything You Need To Know About Yalu Jailbreak iOS 10 -iOS 10.2
If you device not jailbroken, try below guidelines
Why You Should Jailbreak iPhone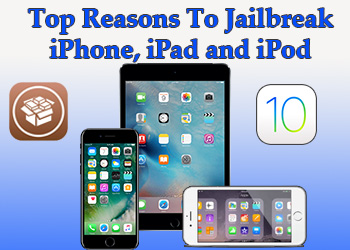 Most of all are think that, jailbreak iPhone is to get change appearance of iOS devices. But it's not that true. Once you jailbroken your device, there are many more things you can do. Lets see Why You Should Jailbreak iPhone.
Get Paid Apps Free in Cydia
There are more paid application in apple store. Once you jailbroken, you can get more premium apps free from Cydia store. So, you will get a chance to use premium apps free.
Get full Access to File Manager
Once you Jailbreak iPhone. You will get full root access to your iOS device. Therefore, you can do any changes as you need. It's easy to use iFiles software and copy paste and edit files from PC to iOS device.
Change Your Themes and Appearance
In default, apple doesn't provide Themes for iOS devices. In cydia app, there are more best cydia sources to change your themes. You will get lot of features like, icon packages, theme colors, shadows,home screen styles and lock screen styles. you can try anemone winterbord alternative to add awesome themes to your ios devices
Read: Install Anemone Themes To iOS 10 : Winterboard Alternative
Multitasking and Split Screens
In this feature, you can able to run two applications in same screen. So, it helps to save your time and easy to do more works in same time. There are more features available to use this multitasking. Mostly this features available for large screen devices. In iOS 10 also you can get this experience without jailbreak.
Remove Unnecessary Features in iOS 10
In iOS 10, There are some features that's not a part of the main system. You can use cydia tweaks help to remove it for your device and get more performance to your iOS device.
Improve Camera Features
Apple iPhone camera is one of the best smartphone camera . By using some cydia tweaks, you can use lot of applications to get photos with more features like edit photos after shoot.Change styles. Change camera click buttons.
Change System Font Styles
Most of other smart phones able to change mobile phone font styles. But apple does not provide this feature. But if your iOS device jailbroken, you can do it easily by using Cydia tweaks.
Animation and Customization
There are plenty of Cydia Tweaks to make some animations and customization like how many app use in dock, remove page limits, resize apps icons sizes, change the periods of system animations and many more features.
Unlock Bluetooth Features
In iOS devices, Bluetooth feature is very limited. But once you jailbroken, You can use a more tweaks to share your files with any smartphones.
Make Your Device More Faster
If you device is old and slow, You can use Cydia Tweaks to stop unwanted application running in your phone. So, it helps to works faster your iOS device.
Lock Folders and Files
Yo can lock and file and folders by using your touch id.  It help to make secure your files and folders easily by using Cydia Tweaks.
Improve your Battery Life
Saving battery life is the most important for smartphone users. So, jailbreaking helps to can go beyond incressing your battery life in iOS devices. There are more tweak you can try for save battery lifes by some metholds and strategies
Get More Updates Without Update iOS
Jailbroken users can able to get this best feature. You don't need to update your iOS to get apple new features. Even your device is old, by using Cydia Tweaks you can get same feature apps from there.
Save Your Storage
Once you jailbroken your device, you can remove unwanted files easily. There are plenty of tweaks which allow to check unwanted files in your system.
If your device got jailbroken read below guidance to add more tweaks.
In conclusion, I hope you got a good reason to Why You Should Jailbreak iPhone, iPad and iPod.I hope you like this article. Please take a moment to share with others and follow us on  Facebook and Twitter