Few days ago apple has released iOS 10.3 beta 2 released. So,they are preparing for public release ios 10.3. This can install by registered developers with support model with
iPhone, iPad and iPod touch. It took two weeks to release iOS 10.3 beta 2 after iOS 10.3 beta 1 released.
In this iOS 10.3 beta update version they improved more features bug fixed and lot features are added. It's better to get more time and give a best iOS update rather than release small point of updating and less bug fixing.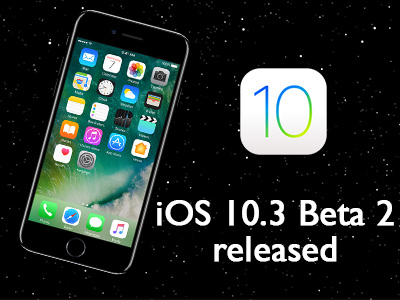 Most interesting feature is, They introduced a Find my AirPod feature in this iOS 10.3 beta which helps to find a missing wireless earphone. They announced this wireless AirPod last year with iPhone 7 and iPhone 7 plus released. AirPod can be found as long as they near and its not like expensive a find my iPhone. Using this app,user can send out a sound to help missing AirPod and it also visible in the map.
48 Compatible Cydia Tweaks for iOS 10 – iOS 10.1.1 Jailbreak
Furthermore ,to update this iOS 10.2 beta version, developers should installed iOS 10.3 beta 1. iOS 10.3 beta 2 available to download and you can install over-the-air (OTA) update for developers. If you are new to this,IPSW of iOS 10.3 beta 2 can be download directly in  apple's developer portal install via iTunes.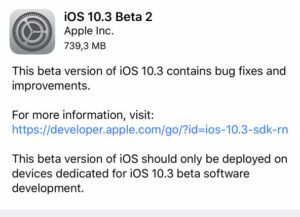 What Are The Features In iOS 10.3 Beta 2 Version
The Find My iPhone app includes with Find My AirPods
SiriKit now includes the ability to support paying bills,check the status of payments and schedule future ride-hailing rides.
Navigation improvements for conversations in the Mail app
Reduced Motion support in Safari for web apps
Podcasts app widget also similar to music app
HomeKit support for expanded switch accessories
CarPlay kit show EV chagrin location
CarPlay app show recently used apps
Spotlight Search now has a border
Security improvements for users
Newly introduce 3D Touch Weather actions
You may like :
14 Reasons To Why You Should Jailbreak iPhone, iPad and iPod On iOS 10
iOS 10.2 Jailbreak Yalu Beta 7 For iPhone 6, 6 plus, 5s And All 64bit iPad Models
In conclusion, We will update you if there is any change in iOS 10.3 beta 2 and we will also update you once iOS 10.3 official release. Stay tuned. In addition, Feel free to comment below with your ideas. Just spend a moment to like us on Facebook and Twitter.