Aim of jailbreak is getting install Cydia to your iPhone, iPad and iPod. Cydia helps to get best and premium apps and Best Cydia tweaks to your iOS device free which apple apps store does not. To add that free premium apps tweak to iOS device, you have to find best Cydia sources / repo to add your Cydia app.
If you don't know about Cydia read this What is Cydia Apps and Cydia Basics
Recently, iOS 10.2 Jailbreak Released. Those who are not jailbroken your iOS device, you can Jailbreak
iOS 10.2 Jailbreak for iPhone and iPad
Once you jailbroken your iOS 10 device it, First thing you need to find some reputable best Cydia sources for iOS 10 Some are call Cydia repo and Cydia repository and both are same.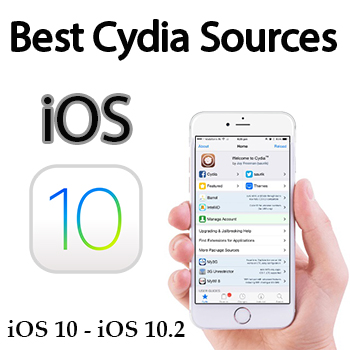 Cydia repository is a domain URL which premium and free Cydia tweaks are hosted. Once you newly jailbreak your device they will add few popular best Cydia sources to your Cydia. Such as, bigboss repo modmyi repo. So, you can get some best cydia tweaks which they provide. There are more Cydia Sources available, If you want to get awesome tweaks, you have to find top and best Cydia Sources to your Cydia app. I will help you to add it to your device.
Now you need to know, How to add Cydia Sources/repo to your iOS 10 device. Adding Cydia source is pretty simple task. It take few seconds to do it. Make sure to enable WiFi or mobile data before add it to your device.
You can read these simple task to How to add best Cydia Sources to Cydia app
Best Cydia Sources/ Cydia Repo For iOS 10 Jailbreak 2017
iCleaner Pro
Repo link: https://ib-soft.net/cydia
This is the best iOS system cleaner and optimizer. iCleaner boost up your device by removing unnecessary file like cookie files, temporary files and etc. So it helps to run your device smoothly and you will get free space to your storage. You can choose with app clean regularly.You can set it manually by using this tweak. So,it's very useful to install to your device.
HashBang Productions
Repo link : http://cydia.hbang.ws
HashBang is also one of the best Cydia sources. It has been downloaded ten of thousand of people around the word. They provide awesome apps tweak like TYPESTATUS PLUS. If someone is typing for a while, and you don't really know what's going on, you can always click the typing indicator in your status bar to open up the
messages app to your conversation. There has never been a way to access the messaging from the typing indicator with such ease. This app works with and apps like whatsapp,iOS message, facebook messenger and more.
CP Digital DarkRoom
Repo link https://beta.cpdigitaldarkroom.com
CP Digital DarkRoom is also good Cydia tweak which you can use. There are more app you can get it. Such as VolumeSound,WallRotator ,CCShadowRemover and more.
Ryan Petrich
Repo link : http://rpetri.ch/repo
Ryan Petrich is a also one of the best Cydia sources in 2017. By adding it you can get a apps such as Activator, BrowserChooser, DisplayRecorder and many more. He doesn't provide lot apps but his applications are very useful.
F.lux Official Repo
Repo link : https://justgetflux.com/cydia/
F.lux is also great apps you can worth to try .It automatically adjust the color of your iOS device display according to day tome and reduce strain on your eyes. It feel good to relax your eyes by using thing apps. And it work according to location and day time. Give a try and see how it works.
Xsellize
Repo link : http://cydia.xsellize.com/
Xsellize also provide wide range of latest Cydia tweaks. You can get paid apps and games free.large numbers of users use this best Cydia sources. just give a try it.
BiteYourApple Repo
Repo link : http://repo.biteyourapple.net
BiteYourApple also provide more popular tweak for iOS devices. Such as ifile, fakegps, Barrel and much. As well as variety of rich ringtones,thousands of themes and many more.
Read Previous article: Best Cydia Sources 2017 on cydia downloads
Furthermore, I think these are the best cydia sources for iOS 10 in 2017. Just give try and get best Cydia tweaks  to your iphone, iPad and iPod.
Read: Best Cydia Tweaks for 2017 – iOS 9
In conclusion, If this article help to you. Please spend a moment to share on Facebook and twitter. We would much appreciate, if you follow us on Facebook and Twitter. Feel free to comment your idea regarding to best Cydia sources for iOS 10.