In this tutorial we will talk abut what are the best Cydia tweaks 2018. Jailbreak is very important those who want to get paid apps and tweaks free of charge. But, jailbreaking is a quite weird for general iOS users. But it is not a hard thing. You need to follow instruction correctly. We have published more tutorial about jailbreak iOS devices. If you want to jailbreak your iOS device Just follow below tutorial.
Most of latest iOS versions does not support jailbreak yet. You can give a try if your iOS version available to jailbreak. If you are ready to jailbreak, then you can get awesome experience with best Cydia tweaks 2018 with your iOS device.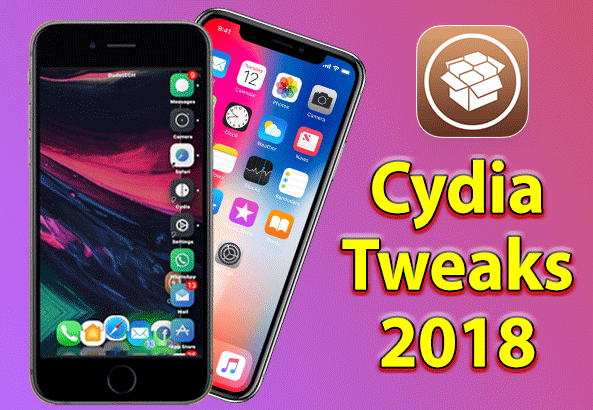 Hundred of cydia tweaks are  released and every months for iOS device. We have been spend few days to install all of these free cydia tweaks 2018 for testing.  And finally, we ended up creating list of below. Therefor you can give a try to get install this cydia tweaks 2018 for your iOS device.
Best  Cydia Tweaks 2018
Activator
Activator is well known tweak among jailbroken iOS device users. This tweaks helps you to get more shortcut which apple default OS does not provide. Therefor it will very useful to control your iOS device.
AdBlocker
As we all know that, AdBlocker is a best tool to blocks annoying ads on browsers and other apps. This tweak also added to best cydia tweak 2018.This will works for all browsers.
Price for $2.19
CleanLock
This is also best cydia tweak which you can install to your iOS device. This tweak gonna helps to control notification message floating over your lock screen. Therefore you can keep your lock screen clean and tidy.
Price Price $0.99
AirBlue Sharing
Do you want to share file photos and music like android phone? This is the best tweak for that. You can share file with android and windows phone. AriBlue helps to send file using Bluetooth.
Airblue price $4.99.
Anydrop
Hope you know about Airdrop and it is a built in feature in iOS. But this tweak called Anydrop. It helps to upload files on server and explore to anywhere.  But it allows, only certain types of files to be uploaded. But this Anydrop allow to share any type to files.
iFile
iFile is a best file managing software for iOS devices. There are lot of advantage of using this iFile. Once you get jailbroken your iOS device, this will be the very first cydia tweak you can install.
ByPass
ByPass is a tweak which you can use for bypass the default passcode protection. It means you can add different lock protection for your iOS device. You can set a secret gesture lock. This is also best cydia tweak 2017
iCleaner
iCleaner, helps you to remove all unwanted files form your iOS device. By using this cydia tweak, you can increase your free storage by deleting unwanted files and cache.
Bioprotect
BiosProtect is a Best cydia tweak which you can use to access individual apps with Touch ID. Therefore you can protect your individual apps like Viber, WhatsApp or Videos and Facebook Messenger with a Touch ID.
This cydia tweak available at Bigboss Cydia Repo.
BiosProtect cost $2.99.
BytaFont 2
BytaFont 2 allow you to change default font of iOS device.You can download some font style and apply to your iPhone and iPad.
FolderLock
FolderLock is also best cydia tweak which you can use to password-protect your folders. This is a very famous jailbreak tweak around iOS users and free cydia tweak you can get from BigBoss Repo.
Try below best cydia tweaks articles
Hope these Cydia tweaks helpful to do your works easily. If you have any question regarding to this, comment it below. We will help you. Follow us on Twitter, like us on Facebook and add in Google+ circle to get latest updates via social media.