We are trying to give best tutorial for IOS users. If you read our previous posts, you can see we are trying to give best intallous alternative for Cydia users.However when we compare them to installous, installous was the best. We cannot full fill installous lost.If you miss to read previous articles. you can read below. Today we will talk about download Vshare and how to use it.
As above article says, I tried both applications. But i could not get a installous features as same. I'm not tell you to don't use app cake and ifunbox. Because their apps also provide good features for download apps.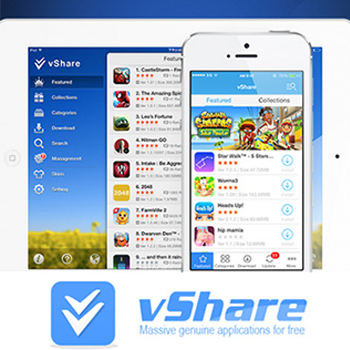 Finally, Vshare become a pretty similar alternative for installous. So we want to share it will you. As you think,,Vshare is an a Cydia application which provide paid application, games for free. Your iOS device must jailbreak to install crack application using vshare. If you find it very difficult to download and install vshare. This post will help to give quick solution for you. Since shutting down of installous Vshare has become greater alternative for it. i will guide you to how to download Vshare and install on your IOS device.
How to download Vshare from Cydia
you can install vshare from Cydia by using Vshare official repo. You can follow my guide from this article. how to add source. follow below steps.
1 : Go to Cydia and tap manage
2 : Now tap sources edit and add
3 : Enter following URL http://repo.appvv.com
4 : Once it done. go to Cydia search and type appsynce
5 : Download latest version of appsynce
6 : Once it done. go back and search Vshare and install it.
Hope you successfully installed Vshare on your device.
Whats are the feature in vshare
As we talked before, Vshare is the alternative of installous. Its provide amazing user interface with  cracked paid application which you used before in installous. You can see some new feature list in Vshare.
Able to install paid application free
Can direct download cracked apps
Able to share downloaded ipa files over wifi
Some special options to find new apps
Able to install app by searching like appstore
You better to try it and see how important it is. Because you can get more than i'm writing here IOS user never imagine how much works can be done using Vshare.
in conclusion, I hope you found a good solution for installous. That's have been waiting. I guess it will provide a good service for you. If you have some question regarding to this, let me know.