In this tutorial we will guide you to How to download WhatsApp++ for iOS 11. No jailbreak required for this installation.
This is also same WhatsApp app which you can download from Apple apps store. But you will get more features than stranded WhatsApp app. There are many more features such as custom themes, Stealth Mode, Ability to send unlimited media items with one message and Passcode support for touch ID those who want to lock WhatsApp app. Therefore you can easily get install WhatsApp++ for iOS 11 to iPhone iPad and iPod touch devices.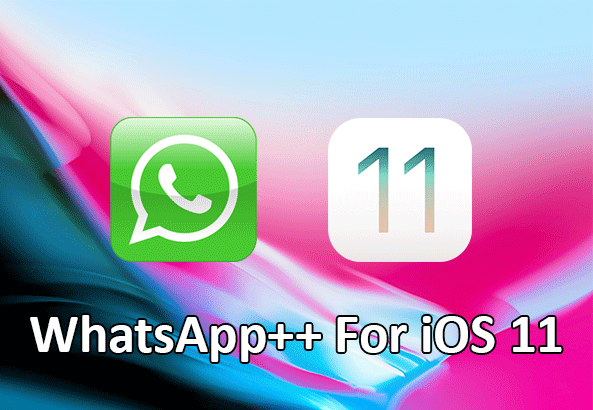 If you want to know more about WhatsApp++ read below article.
Download WhatsApp++ For iOS 11 iPhone
Let see how to install this WhatsApp++ for iOS 11
Step 1: First of all you need to download WhatsApp++ for iOS 11 iPA file to get install to your iOS device without jailbreak. To get download WhatsApp++ iPA file get it from here.
Step 2: Hope you downloaded WhatsApp++ iPA file to your computer. Once you have WhatsApp++ iPA you cannot install it to direcly to your iOS device. Therfore, you need to get helps of Cydia impactor to install IPA files to iOS device. You can get install iPA file to iOS device from below two ways. you can try below ways to do this.
Step 3: Once you followed above tutorial, you are done with installation WhatsApp++ for iOS 11 device. Even you got installed, you cannot run the application. You need to follow this setting to get it work.
Step 4: Launch the native Settings app and navigate to General > Profile(s) & Device Management. Now you will fine profile which has been installed with the app and that you need to tell iOS to trust it before it will work.
Step 5: Now you can tap on Trust button and trust the app.
Step 6: Once you tap on trust button, you are done with full installation.
Now go back to home screen and enjoy with WhatsApp++ for iOS 11 non jailbroken devices.
DOWNLOAD IOS 11 SUPPORT APPS LIST BELOW
Now you are done with installation. Hope you are successfully Installed WhatsApp++ for iOS 11. If you have any question regarding to this, comment it below. We will help you. Follow us on Twitter, like us on Facebook and add in Google+ circle to get latest updates via social media.