In this article we will talk about how To Enter Substrate Safe Mode to fix Issues After Jailbreak iOS 10.2 iPad iPhone iPod. Jailbreaking iOS 10 devices is can be done within few steps.
If your device still not Jailbroken, You can try below article. Jailbreaking is pretty amazing because it helps to get paid applications free and millions of tweaks available to customize your iOS device. Sometime jailbreak make some new issues to your iOS device. Because of you installed Cydia tweaks, some Cydia sources or packages which doesn't fully support your device or firmware version. Therefore device functions may get problems and you cannot work properly with your iPhone, iPad or iPod.
Read:  iOS 10.2 Jailbreak Yalu Beta 7 For iPhone 6, 6 plus, 5s And All 64bit iPad Models
Over come for above problem.You can Enter substrate safe mode to solve this. This is the best way to get rid of these problems and allow users to restore from the recurring issues. Substrate Safe Mode is build for get solve any error which occurred once you installed Cydia tweak or Cydia packages to your device. You can remove it without getting any harm your device.
By entering Substrate Safe Mode user can debug the tweak which make some issues to your device. It means you can remove tweak or packages which you installed before the issue started. So we will guide you to how to enter Substrate Safe Mode.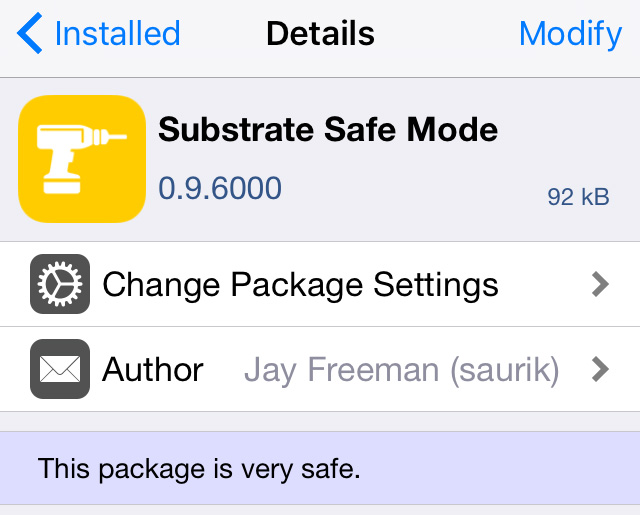 We suggest you to update Substrate Safe Mode to latest version 0.9.6000. Because it support yalu102 jailbreak.
How To Enter Substrate Safe Mode To Fix Issues After Jailbreak iOS 10.2
1: Once you got some issues in your iPhone, iPod or iPad after installed any tweak or packages, you can restart your device. But you cant solve the problem like that. After you restarted your iOS device it become non-jailbroken according to semi-tethered jailbreak of yalu. So, first of ll you need to restart your device and make it a non-jailbroken device.
2.  After rebooted your device, launch the yalu102 jailbreak icon in home screen.
3. Once you tap on yalu102 icon it will show "go"button like you did to jailbreak your device. This is a same process like jailbreak your device. But to enter substrate Safe Mode, you need to press and hold volume up button and power button together after your tapping the "go "button.
4. You have to keep pressed together until apple logo shows on home screen.
5. Now successfully Done. you can enter substrate Safe Mode.
Now you will get full access to troubleshooting possibilities to fix any errors in your jailbroken device. So, you can uninstall and remove any tweaks or package which made some issues to your device.
If this article helps you, just spend a time to share with Facebook and twitter and follow us on Facebook and Twitter.
You may like this articles: