Today we will learn how to add Cydia sources to Cydia app. As we discussed before, i hope you have a good idea about whats is Cydia app. Furthermore, If you are new to jailbreak i would suggest to read below article.
Newest and unique tweaks make always curious to iOS users and it always fun to test something new. There are two ways to add Cydia sources to Cydia app. One method is add it by Cydia it self and second method is add Cydia source manually. First of all, you have to get install Cydia app to your iOS device. It mean you should jailbreak your iOS device. If you haven't done it yet. Just read below article to jailbreak your iPhone, iPad and iPod touch.
I Hope your iOS device jailbroken and Cydia App is there. Follow this tutorial to add  Cydia Sources to Cydia app
How to add Cydia sources to Cydia app itself
Step 1: Open Cydia app and tap Cydia icon from bottom menu. Once you done it, Cydia home will appear
Step 2: Click on More Package Sources. Then Cydia recommended source will be show up. you can tap on one Cydia Sources
Step 3: Next, information page will come up. Now tap on install on top right corner.
Step 4: It ask to confirm your installation and Tap on confirm and it will install.Wait for few seconds until it get updated once it done tap on Cydia icon.
Once you did above steps,It will go to Cydia sources information page. Finally done it. you successfully added the Cydia sources.
How to add Cydia sources to Cydia app Manually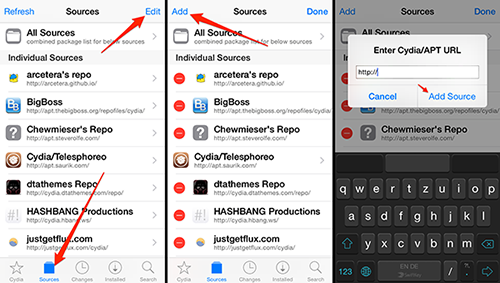 Step 1: Tap on Cydia icon, Tap source from bottom menu and Edit.
Step 2: Tap on add top left corner. Now small popup will appear, Add URL of repo in the text box and click add source. now it will verify URL. It will take few seconds to complete.
Step 3: After that Cydia will start download  source. Wait for few seconds to finish it.
Step 4: Finally, you can search apps from Cydia search and add it as your like.
When you are add a new Cydia Sources, do not close the Cydia app or use any other applications, Because your device will get stuck .Then it will become a issue when you restart your IOS device. In addition, Always try to add good and famous Cydia sources for your IOS device. You can get more cydia sources from below link.
As a result of this article helps to know that How to add Cydia Sources to Cydia app. If you have a question regarding to this,do not hesitate to ask. Follow us on Twitter, like us on Facebook and add in Google+ circle to get latest updates via social media.