In this tutorial, we will guide you to download Phantom for Snapchat iOS 11 and iOS 10 Without Jailbreak. Thesedays, Snapchat is very popular social media application.There are lot of features available, such as  send photos,videos, sound and many more.
Now you may be confused about what is a Phantom, and what is the advantage of it? That's what we going to talk about this post. Phantom helps to unlock bonus additional features of Snapchat by installing Phantom for Snapchat IPA Enhancement Tweak for iOS 11 and iOS 11 (iPhone/iPad) Without Jailbreak.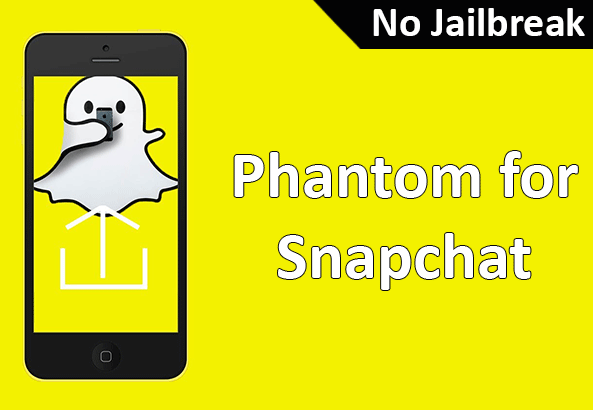 Previously this features works only for jailbroken iOS devices with the name Phantom Lite for Snapchat. But in this post we are going to install phantom for Snapchat without jailbreak. Before go this tutorial let us explain the features of this phantom for Snapchat. It will help you to figure out what are the best features available than stranded Snapchat app .This tutorial works for iOS 11 and All other iOS 10 versions.
What are features of Phantom for Snapchat iOS 11 and iOS 10
Keep Snaps in the Feed & mark read when you see fit
Ability to enable "Open in" for Snapchat (in Settings.app)
Ability to select multiple contacts at once
You can disable Phantom (in Settings.app)
Includes a Snap Log to automatically save sent media
Option to disable the hold gesture to keep snaps open
Save received media to:
-Camera-roll
-Specified Photo Album
-Password protected folder (Backed up by iTunes)
Send images & videos from the camera-roll:
-includes an image crop feature
-Ability to override video orientation by shake
Notification Features:
-Set a custom Snapchat notification sound
-Status bar notification
Additional Caption Effects:
-Change text font, size, & color
-Change caption background image/color
Download Phantom for Snapchat iOS 11 and iOS 10 Without Jailbreak
First of all you should remove snapchat from your device which you installed from apple apps store.
Step 1: Now you need to download Phantom Snapchat IPA for iOS to your computer from here.
Step 2: Once you have a Phantom Snapchat IPA file on your computer you need to sideload IPA file to your iOS device. You can use one of below two method to get install Phantom Snapchat to your iOS device.
Step 3: Once you are done with installation of sideload IPA file to your iOS device Phantom Snapchat will show up on home screen.But you cannot run Phantom  app.
Step 4: To complete setup,You need to navigate Settings -> General -> Profiles and trust the profile of the application before launching it.
Step 5: Now you are done. Enjoy with Phantom for Snapchat.
TRY OTHER APP WHICH INCLUDE MODIFIED ++ VERSIONS.
In conclusion, We hope that you got installed Phantom for Snapchat without any issue. If you have any question regarding to this, comment it below. We will help you. Follow us on Twitter, like us on Facebook and add in Google+ circle to get latest updates via social media.