Vshare is a great alternative for Cydia. Because, you can get install paid and premium apps in to your iOS device without paying. Lot of tweak are available which are not provide in apple store. Furthermore, Best feature you dont want to jailbreak your iOS device to install vshare. It's easy to  download vshare and install.I think all of are know about Cydia.
Read: What is Cydia Apps and Cydia Basics
Vshare become different concept to comparing other apps because, You can install vshare on iOS 8, iOS9 and iOS10 without jailbreak.Therefore, you can get install paid apps free with using Cydia. Because, always cydia provide quality apps for free.In Vshare, many more tweaks and games are available for your device.You might think install vishare also big procedure like jailbreak iOS device.No, Its not. you can install it easily. If you read my previous articles, you can read about how to add vshare in to cydia.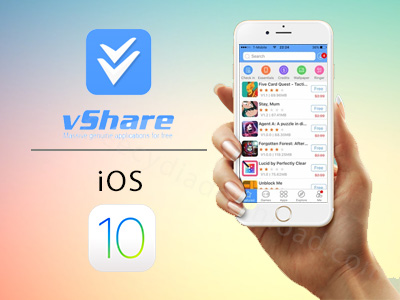 Vshare is the best alternative for installous and appcake. Because installaous are shot down couple of years ago.We don't know whether it will come back. And you need to jailbreak your device to install appcake. Hence, install vshare is totally different and easy to install.
Read: How to Install AppCake from Cydia : Installous Alternative
What are the features you get when you Download Vshare install
These are some features which you get once you install vshare on your iPhone 5, 5s, 6 and 7 without Cydia.
It doesn't need jailbreak or Cydia to download vshare and install
You can install it with using Windows PC easily
You can install premium apps free.
Latest apps like moviebox also available in iOS 10
How to download vshare and install to your apple device without jailbreak.
Follow these step to install it.
1.Go to Vshare.com and download it.
2. Double click on exe file you download and select one key installation
3. Once installation finish. Just open it and connect with your apple device.
4. Now it will authorize you device apps.
5. Once it finished check your iphone. if there is no Vshare app installed to iphone, click install Vshare button on vshare helper.
6. Now vshare will install on your apple device without ask any jailbreak.
7. After it done. go to mobile home screen and check your vhare app on there.
8. Finally you successfully install vshare without jialbreak on your apple device. you can enjoy free apple with using vshare.
Read: Download Vshare on Cydia and How to Use It
Vshare comes with lot of cool apps for iOS 10 and 9.You can download and app and install it to your apple device. enjoy with it. If you have question regarding to download vshare, leave a comment. If this article helps you. share it with others.