In this tutorial we will guide you to how to install vShare for iOS 11 without jailbreak to your iPhone and iPads. In basic, vShare is a app market,There are lot of available to download , such as Cracked and paid apps free to your iOS device. You can download paid games and apps free for example Minecraft, YouTube++, Facebook++ and many more. Most of app are available for non jailbroken iPhone and iPads. Therefore you no need to worry about to jailbreak your iOS device to get crack apps.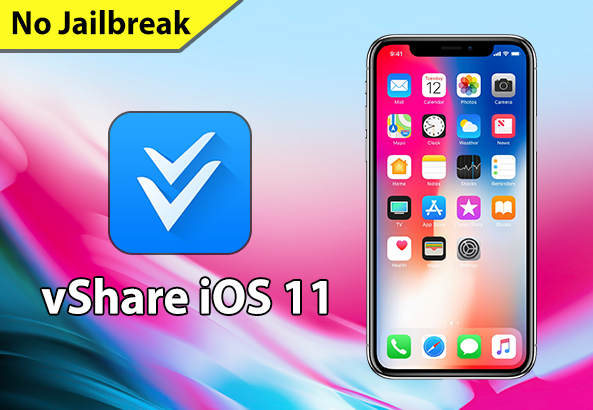 What are the Features for vShare iOS 11
No jailbreak required
Able to Download an app that is not in app store
Free hacked games
Free paid apps
Safe to download and use
How to install vShare for iOS 11 without jailbreak
In this method we are not installing it on own device. First of all we need to install vShare PC version to your computer. After that, We will connect your iOS device to computer and download vShare to your iOS device. Lets see how to start this installation step by steps.
Step 1: First of all you need to download and install vShare exe file to your computer. Go to vShare website at vshare.com and select yellow Download button under the PC Client header to vShare for iOS 11 download. Then vShare exe file will download to your computer.
Step 2: Now you can install vShare helper software. Once installation done, Connect your device to the PC using usb cable. Then select the install vShare button in the vShare Helper software.
Step 3: Now, you will get popup and tell you that vShare software is downloading on the connected device. You can keep the device plugged until finish the installation.
Step 4: At last you will get a new icon on your iOS device called vShare SE. You can tap on it and load vShare app.
Step 5: When you load up vShare, you can notice that some of app in the list an "App Store" icon button next to them. It means, your device needs to be reauthorized properly.
Step 6: You can close all app from multitasking and go to vShare Helper software on the PC with device connected. Now tap on Re-authorization button which is to the left of the Install vShare button. Once you are done with all of above, you can run vShare for iOS 11.
Try below tutorials to get paid apps and tweaks free for iOS 11 devices
Hope you are successfully Installed  vShare for iOS 11 devices. If you have any question regarding to this, comment it below. We will help you. Follow us on Twitter, like us on Facebook and add in Google+ circle to get latest updates via social media.