This is a tutorial which guide to jailbreak iOS 11 / 11.1.2 Using Electra jailbreak with Cydia With Using computer. This is semi-untethered jailbreak solution, developed and released by CoolStar for 64-bit iPhone, iPad, or iPad touch devices.
We hope that you heard about Electra jailbreak from our previous article. Before start this tutorial lest see what are the thing you must need to understand. First of all you need to understand that, this is semi-untethered jailbreak. Which means which means that the Electra app will need to be opened and the device re-jailbroken each time it is rebooted or powered down.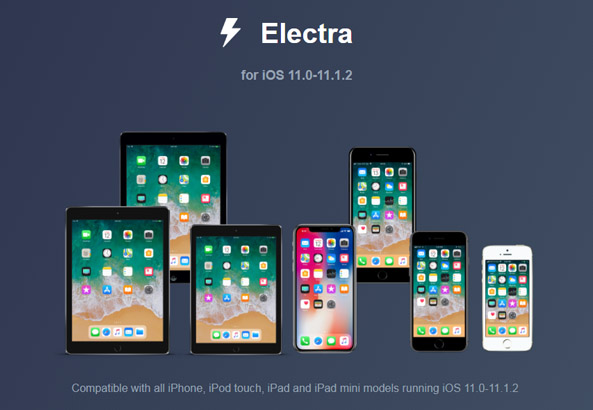 So far Saurik hasn't updated Cydia or Substrate for iOS 11. Electra final version does come built with it as the developer has himself added support for Cydia.
What are the requirement for Electra Jailbreak iOS 11
This Electra jailbreak support for iOS 11 to iOS 11.1.2. As well as it support only 64-bit devices with those firmware versions installed.It means support all 64-bit devices including Apple's latest hardware, iPhone X, and iPhone 8/8 Plus.
Latest Version of iTunes
Latest version of Cydia cydiaimpactor which you can download from cydiaimpactor.com
A free or full developer ID, which can be create from developer.apple.com using an existing or new Apple account.
A PC or Mac running Windows or macOS.
Latest Electra 1.0.x final IPA file. Electra Jailbreak download from our previous article here.
Electra jailbreak Tutorial
Step 1: First of all connect your iOS device with USB with your Computer and just full backup your device.
Step 2: Launch the latest version of Cydia Impactor that you have downloaded.
Step 3: Now you need to drag the latest Electra IPA file onto the Cydia Impactor window and wait for the prompt regarding your Apple ID credentials. You need to Add your Apple ID and Password to Process.
Note: If you are confuse about this Sideload, you can read follow guidance, it will show how to sideload IPA files step by steps.
Step 4: Now Electra IPA is installed on the device.Now you need to do some setting before start jailbreak. Settings > General > Profile(s) & Device Management and select the profile which has been installed with the Electra app.Select Trust and then Trust again.
Step 5: Now go to Home screen and tap on Electra icon. Once it load, Home screen looks like below.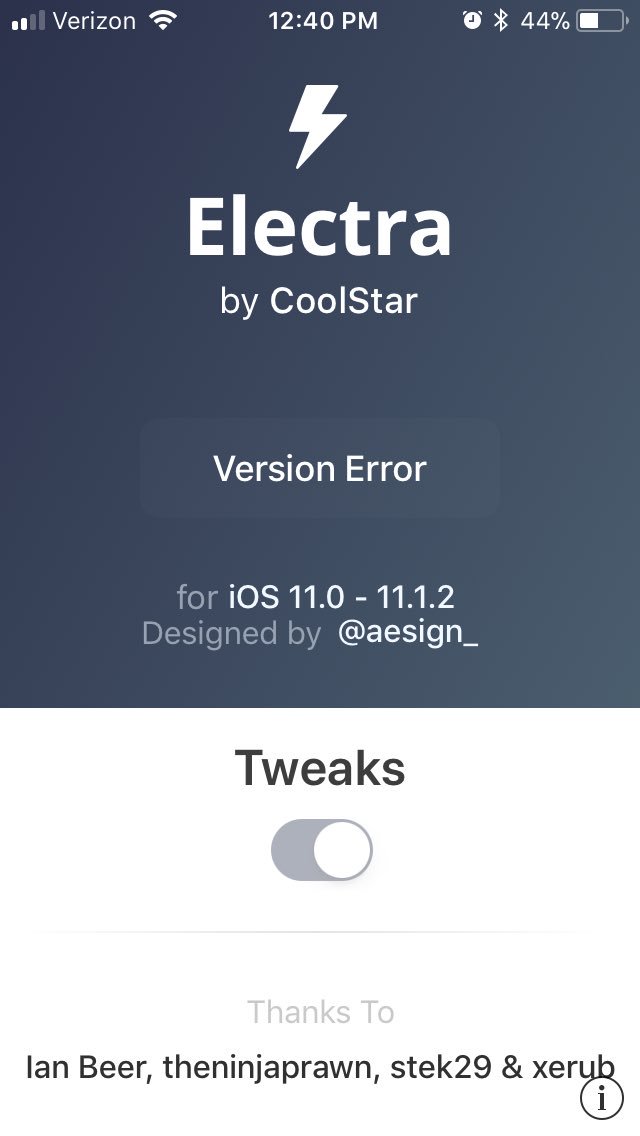 Step 6: You can see, "Jailbreak" Button middle of the page. Just tap on it. making sure that the Tweaks toggle is ON.
Step 7: Now you need to wait.If you see a prompt which says "APFS Screenshot Created", this mostly means it's progressing well. Just tap on "Continue Jailbreak" button to proceed.
Once complete, you should have Cydia installer on your Home screen.Now you can tap on cydia and install your favorite tweaks to your iOS device.
You can try Electra jailbreak Tweaks list below.
Hope you are successfully Installed jailbroken iOS 11 device with Electra Jailbreak Tutorial. If you have any question regarding to this, comment it below. We will help you. Follow us on Twitter, like us on Facebook and add in Google+ circle to get latest updates via social media.