In this tutorial we will guide you to jailbreak iOS 11 to iOS 11.1.2 On iPhone X and other devices. This is also semi-untethered jailbreak with using LiberiOS jailbreak tool. This mean, once you jailbroken your device, you need to re jailbreak after every reboot and and resign the jailbreak app every 7 days.
This is a latest jailbreak work carried out by Ian Beer of Google's Project Zero. Therefore Jonathan Levin being able to produce this jailbreak and release to all public users. First of all you need following requirements for jailbreak iOS 11 devices.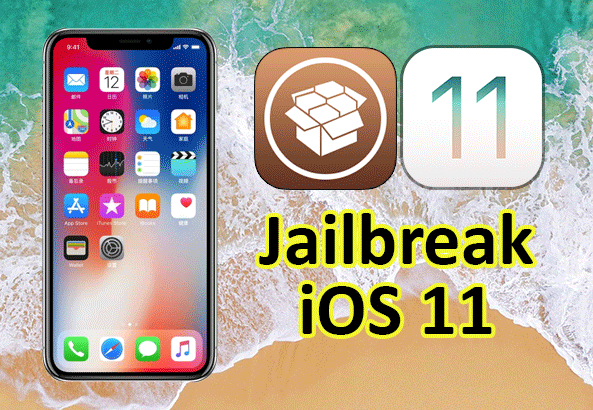 What are the requirement for jailbreak iOS 11 devices.
Download Saurik's Cydia Impactor tool to sideload IPA file. You can download it from here.
Your iOS device must be 64-bit suppport device with including iPhone X and iPhone 8/8 Plus.
iOS version must be iOS 11.0 to iOS 11.1.2.
Download LiberiOS IPA from this URL http://newosxbook.com/liberios/
Download Latest version of Apple's iTunes software.
Free or full developer ID, can obtained from developer.apple.com
Computer running macOS or Windows.
LiberOS Jailbreak supports the following iOS 11 versions:
iOS 11, iOS 11.0.1, iOS 11.0.2, iOS 11.0.3
iOS 11.1, iOS 11.1.1, iOS 11.1.2
LiberOS Jailbreak not support the following iOS 11 versions:
What are the support devices for LiberOS Jailbreak
iPhone X, iPhone 8, iPhone 8 Plus, iPhone 7, iPhone 7 Plus, iPhone 6s, iPhone 6s Plus, iPhone 6, iPhone 6 Plus, iPhone SE, iPhone 5s
12.9-inch iPad Pro, 2nd generation 12.9-inch iPad Pro, 1st generation 10.5-inch iPad Pro, 9.7-inch iPad Pro, iPad Air 2, iPad Air, iPad
5th generation, iPad mini 4, iPad mini 3, iPad mini 2
iPod touch 6G
Hope you have all of about requirements. According to original Jailbreak iOS 11 Announcement, Cydia and Cydia Substrate don't properly work just yet. We need to wait until Saurik to update them. But you can use this jailbreak for root and SSH access.
Follow below tutorial to Jailbreak iOS 11
Step 1: First of all Connect your 64-bit iOS 11.1.x device with USB Cable. Make sure to backup your device before jailbreak to save your data.
Step 2: Hope you have LiberiOS IPA file In your computer. Now just follow below tutorial to sideload LiberiOS iPA file to your iOS device.
Step 3: Once you are done with sideload launch Settings > General > Profile(s) & Device Management ( some iOS version show as General > Device Management) and tap the profile associated with the jailbreak app.
allow the LiberiOS jailbreak app to launch
Step 4: Now go to home screen and launch LiberiOS app. Now tap on Do it button in the center of the app and wait.
Step 5: After few minutes you can show like below screen. It means you are successful with jailbreak iOS 11.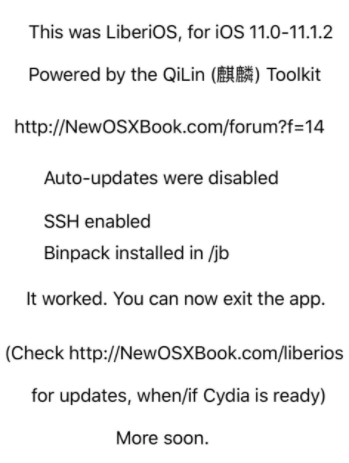 Now you are done with jailbreak iOS 11.
Once you are jailbroken iOS device , You will need to follow these tutorials to get cydia sources and cydia tweaks.
This is a semi-untethered jailbreak, you need to jailbreak mode after every reboot.You can follow above step to do re jailbreak iOS 11. as well as Once the jailbreak app expires after 7 days, You need to resign and resideload it.
Hope you are successfully Installed jailbroken iOS 11 device. If you have any question regarding to this, comment it below. We will help you. Follow us on Twitter, like us on Facebook and add in Google+ circle to get latest updates via social media.