In this tutorial we will guide you to jailbreak iOS 9.3.5 without computer using Phoenix tool on your 32-bit iPhone, iPad or iPod touch devices.
Previously we talked about newly released Phoenix jailbreak tool to jailbreak iOS 9.3.5 with using Phoenix IPA with sideloading method to your 32-bit iPhone, iPad or iPod touch device with using cydia impactor. Most of all who has iOS 9.3.5 waited to jailbreak iOS 9.3.5 and finally Phoenix solution is now available to download and install directly on to the device without any computer. Newest released of Phoenix tool, iOS 9.3.5 users become surprised and it become a good thing for jailbreak community to boost it up again. For release this iOS 9.3.5 Jailbreak, Luca Todesco and realkjcmember also did some works to finish task.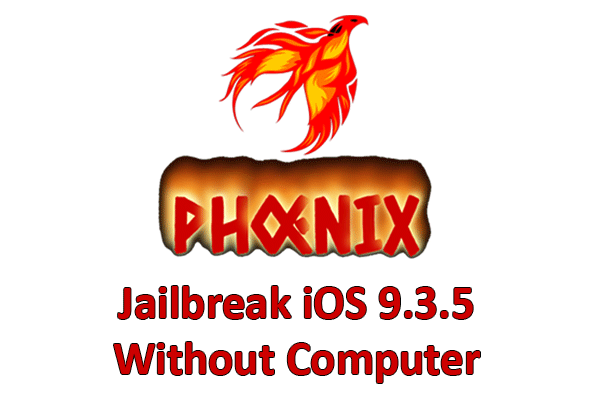 We can install more tweaks using sideload easily, but things have been made even simpler with this new web-based jailbreak installation. Furthermore, downloading IPA file to web based solution and install it as a third party application to your device. As a result of it, easy to jailbreak iOS 9.3.5 32-bit devices with just a few simple clicks. As we talked from previous article, this is a semi-untethered jailbreak. You will need to re-signing and re-sideloading the jailbreak again when you reboot your iOS device.
This iOS 9.3.5 Jailbreak supports 32-bit devices only, which include:
iPhone 4s
iPhone 5
iPhone 5c
iPod touch 5
iPad 2
iPad 3
iPad 4
iPad mini 1
64-bit devices are not supported by the Phoenix jailbreak.
How To Jailbreak iOS 9.3.5 Using Phoenix Without Computer
You can jailbreak iOS 9.3.5 easily with this web-based jailbreak. Follow this guidance
Step 1: Launch safari browser from your iOS device and visit ayouch.me/phoenix
Step 2: Tap on Install button. Then it will ask to install, tap install again
Step 3: After few seconds, phoenix app will on your home screen
Step 4: Now open that phoenix app and "Tap on prepare for jailbreak" and "accept"
Step 5: Now tap on "proceed with jailbreak" after "Begin Installation" and "Use Provided Offsets"
Step 6: Within few seconds installation will finish and Cydia app will show on Home screen
Finally, you are done with Jailbreak iOS 9.3.5 With Phoenix Jailbreak. Now you can able to cydia app with tweaks. Below article guide you to how to add cydia source to cydia app.
GET MORE CYDIA TWEAKS FOR  PHOENIX JAILBREAK CYDIA APP
In conclusion, If this  article useful and helped you, don't forget to share with social media. Thanks for visiting us. Keep in touch with us for latest updates. Follow us on Twitter, like us on Facebook and add in Google+ circle to get latest updates via social media.