Are you running out of free memory space on your iPhone or iPad? Unable to take new photos, install new apps or download music ? Do you want to update new iOS and but don't have enough spare memory needed to do so? Therefore, read our guide how to install and use Magic Phone Cleaner on iOS 10 and iOS 11 iPhone, iPad and iPod touch.
Do ever think that there was an easy way to free up your memory and capacity on your iOS device ? If yes, then you have a good idea about how free memory space is important to your device and your works. There are more apps and jailbreak tweaks for clean up iOS device.
Read: Top 7 Cydia Tweaks For iOS 10.2 iPhone iPad And iPod Touch
But there is wonderful Magic Phone Cleaner app available on the App Store. It helps to clean up your unnecessary file and apps caches in your iOS device. Follow steps below to get up and running with the Magic Phone Cleaner app.
How to download Magic Phone Cleaner On iOS 10 and iOS 11
If you are a owner of iPhone running with iOS 10 or iOS 11, Just Launch Official App Store.
In the apple store, Tap on search and search for Magic Phone Cleaner. It will show the app.
Now you can download Magic Phone Cleaner app to your device. Wait for it to download and install before launching it like you would with any other app.
Once you launch the app, you will see instantly information about how much available storage you have left on your device.
There are some option bottom of the app for cleaning, Boost Memory, Clear Cache, Sort Files.
Just tap on Cache to start process. Tap ok alert and let to go process.
You will get a report how much capacity you will freed up on device.
You will then be given a confirmation screen which tells you exactly how much capacity has been freed up on the device.
To device performance, go to Boost memory process and boost it, then you can see how much memory has been boosted.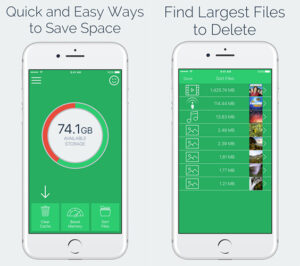 Read:
In app allow you to list your Photos and videos in order to which one you want to keep and delete. Therefore this is a another way to visualize your files. That's it. It's easy to use and free of charge to clean unnecessary file on your iOS 10 and iOS 11 devices.
In conclusion, Follow us on Twitter, like us on Facebook and add in Google+ circle to get latest updates via social media.