In this tutorial we will explain how to download and install TutuApp Helper app without jailbreak your iOS device and does not require any computer.
We all love to get paid apps free to our iPhone or iPad. That's why iOS users are forcing to do jailbreak their iOS devices. Once you got jailbroken, you can have ton of free and paid apps for free or very low prices. TutuApp also special apps, which helps to download hacked versions of many paid apps without jailbreak your iOS device. This is very exciting to be able to jailbreak an iPhone or iPad and get instant access to a world of apps. You can have lot of tweaks and experiences which hadn't previously been available. However, now possible to install some of those apps directly in to iOS device without jailbreak or using apple app store.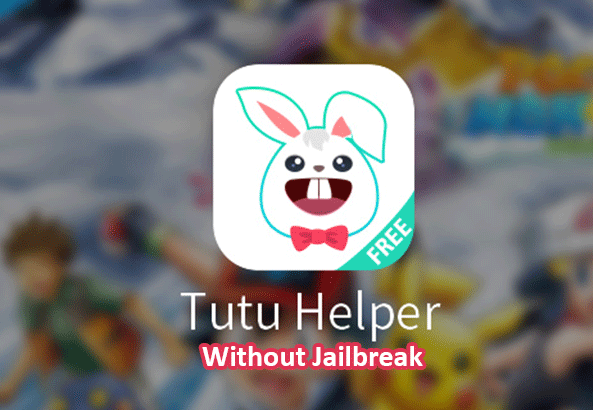 As we said, this TuTuApp Helper is a best third party Appstore, which providing hacked versions of most famous apps and games without jailbreak. TuTuApp Helper was developed by Chinese developers. By using this TuTuApp Helper you can have Pokemon Go, Clash of Clans and much more games and app for free. And also you can play Pokemon Go without moving.
In TutuApp, there are free and paid version available to download. Will see what are the different between these two versions.
Different Between TutuApp Free And VIP Version
TuTuApp Free Version Features
The regular version may be revoked or inactive by Apple any time
Limited Games & Apps
Regular users can't submit app requests
Previous all downloaded apps and games may not work if Tutuapp regular deactivated
Free to download
Tutu App VIP (Paid) Version Features
The VIP version stays active forever even your iOS updates.
More games & apps to download with hacked version
VIP users can submit a request for New apps. After approval, other users can download and install it
All downloaded and Installed apps and games will stay active and work with saved data
$12.99/year
There are lot of advantage of using this TuTuApp Helper, Just give a try and see how much applications you can get.
We will introduce two method of download and install TutuApp Helper app without jailbreak.
How To Install TutuApp Helper Without Computer
Step 1: 
First,On your iOS device, Open up safari web browser and navigate to the app's website at the following URL: tutuapp.vip  It will load the official TuTuApp Helper website.
Step 2:
Once it load you can see green color Download Now button and VIP Install button. Green color Download Now button is a free version of TuTuApp Helper. VIP Install is a premium version of TuTuApp Helper.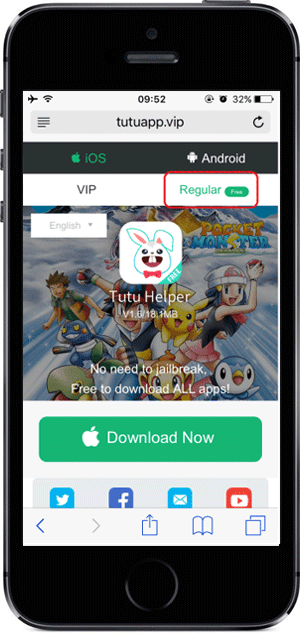 Step 3:
Just tap on Download Now button and then hit Install on the resulting popup as shown in the screenshot below.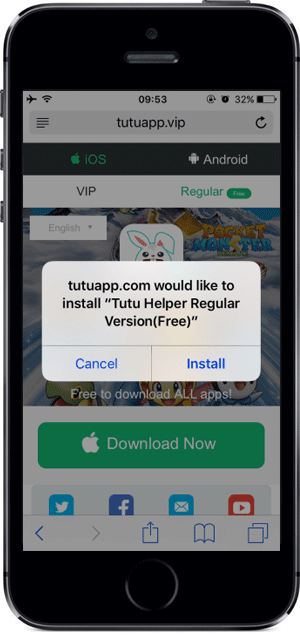 Step 4:
Now popup will show up with "tutuapp.com would like to install ''TuTu Helper Regular Version(Free)'' Just click on Install.
Step 5:
Once you click it, it will start downloading app and install in to your iOS device.
Step 6:
Now you can try to launch the TuTuApp Helper. But it will show up error "Untrusted Enterprise Developer error which requires to Trust the developer"
Step 7:
To fix it, Navigate to Setting > General > Device Management > [name of the developer] and then tap on Trust and then Trust again on the certificate. On some iOS versions, this would be General > Profile(s) & Device Management or General > Profile(s). You are done.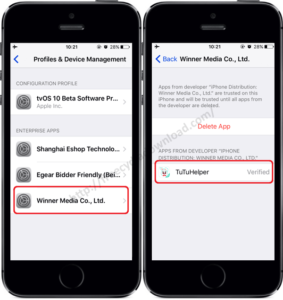 How To Install TutuApp Helper With Cydia Impactor
For this method you have to use windows or mac computer to install TutuApp.
Step 1:
We are not going to install tutuApp from Appstore. We are going to install it from IPA file.So, you need to get download TutuApp IPA file from here
Step 2:
Hope you downloaded TutuApp IPA. Now you need to get install i to your iOS device.To do that, there are two methods you can follow.You can choose your installation guide below:
Step 3:
Now you have TutuApp on your device.It's time to actually let iOS know that you trust this installation and that you want to allow its invocation. Launch Settings and head to General > Profiles & Device Management. Do note, on some devices, this may simply be called Profiles.
Step 4:
Locate the profile assigned to this new installation and tap on it. Now you will get allows you to trust the installation. Tap on that Trust option and confirm.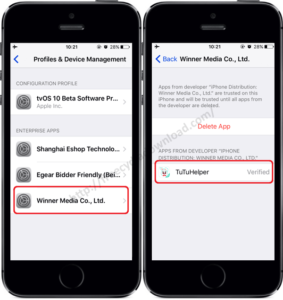 Step 5:
Now you are successfully installed TutuApp Helper app with using slideload.
Finally, Now you are successfully installed TutuApp Helper app from any of above method. Now you can TutuApp helps work without any issue. This will give user access to all of the features and functionalities. You can try this app. Follow us on Twitter, like us on Facebook and add in Google+ circle.