Few days ago we released iOS 10.2 Jailbreak for iPhone and iPad. But, it was supported only for limited iOS devices like iPhone 6s, iPhone 6s plus and iPhone SE. Finally Luca Todesco has released ,Yalu beta 7 with support more iOS model than previous. This jailbreak also semi-tethered jailbreak like pangu jailbreak iOS 9.3.3.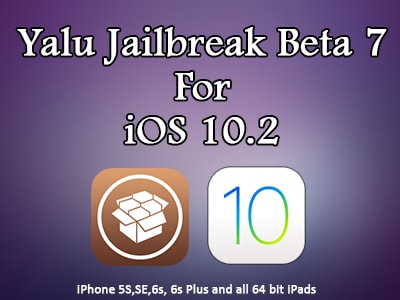 If your iOS is not support this jailbreak, best thing is you need to wait until get your iOS model support. Make sure to backup all data before start jailbreak your device and enough battery power before iOS jailbreak 10.2
Read:
14 Reasons To Why You Should Jailbreak iPhone, iPad and iPod On iOS 10
Everything You Need To Know About Yalu Jailbreak iOS 10 -iOS 10.2
iOS 10.2 Jailbreak Support Models with Yalu Beta 7
iPhone 5S
iPhone SE
iPhone 6 ,iPhone 6 Plus
iPhone 6S Plus, iPhone 6S
iPad Air, iPad Air 2, iPad mini 4, iPad mini 3, iPad mini 2, iPad Pro
iPod Touch 6
Yalu jailbreak Doesn't support  yet
iPhone 7 and iPhone 7 Plus
This yalu beta 7 iOS 10.2 jailbreak works only above iOS devices and Make sure your iOS version is 10.2. If your iOS version is 10.1 or 10.1.1. you can try jailbreak from here.

Unfortunately, apple latest model iPhone 7 and iPhone 7 plus devices are not support with this yalu beta 7 jailbreak yet. But Latest version of iOS 10.1.1 support for apple iPhone 7 and iPhone 7 plus.
Following guide will help to jailbreak iOS 10.2 devices mentioned on above.
Follow this guideline who has iOS 10.1 or iOS10.1.1 in iPhone 7 or iPhone 7 plus.
Once you jailbroken your device with above guidance. You need to choose best Cydia sources and best Cydia tweaks for your iOS 10.2 jailbroken device.
Below guidance are will help you to get it easily.
In conclusion, If this jailbreak doesn't work properly or made some issue with your iOS Device. you can restore in to iOS 10.2.1. Make sure to install compatible Cydia tweaks to your iOS device. Because it will harm to your device. you can get  48 compatible Cydia tweaks from here. As i said this is semi-tethered jailbreak.It mean, every time when you restart your phone, you need to launch yalu102 jailbreak it again.
Read more here : What is semi-tethered jailbreak
Furthermore, We always provide latest Cydia and jailbreak updates for you. If you have questions let us know. I hope this article helpful to you. Please spend a moment to share on Facebook and Twitter. We would much appreciate, if you follow us on Facebook and Twitter.Feel free to comment your idea regarding to iOS 10.2 Jailbreak yalu beta 7 support for iPhone 6,6 plus, iPhone 5s and all 64bit iPad models.