Most of iOS 10 users are waiting for to know, whats are the new iOS 11 features apple releases iOS 11 beta version.  As you expect they came up with new features and improvement with iOS 11 beta. As soon new iOS  version released, we always keep inform you. In this article you will get to know everything about Apple's latest mobile firmware for iPhone, iPad and iPod touch devices.
Apple's next-generation iPhone dubbed iPhone 8  but the company has today used its annual developer conference, WWDC 2017, to shortly shift its focus onto the next generation platform which will power that device, iOS 11. Tim Cook and his team have finally introduced iOS 11, including diving into details about its features and public availability for iOS users.
Most of are talking about how iPhone 8 will look like and what type of features will have. But that device wouldn't be capable of standing ahead of the smartphone pack without a highly powerful and advanced operating system powering it. Check what are those new  iOS 11 features.
iOS 11 Features List
 Apple Music social sharing
There's a new friends integration to see what friends are listening to, and the ability to have automatically add songs to an Apple Music playlist. That's not all though, there's new MusicKit framework for developers to give full access to the Apple Music experience.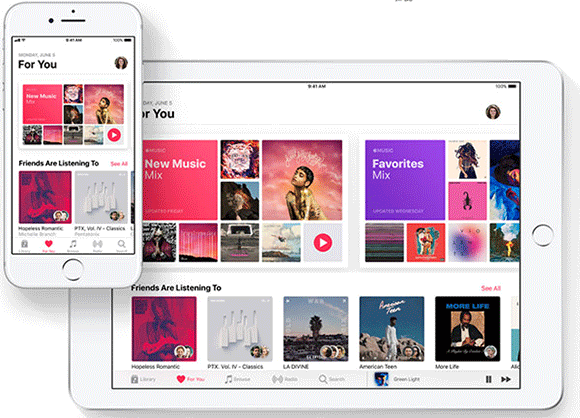 Messages iCloud sync
After offering messages across multiple devices for quite some time, those conversations will now have iCloud syncing so there's now continuity between machines and devices.
Improved Camera and Photos apps
Camera also change have been made in iOS 11 . "Portrait Mode images can be taken with optical image stabilization, True Tone flash and HDR". Photos are taken and stored with better compression techniques and image quality is being improved with iOS 11. new HEVC video encoding decreases the file size of a 4K video. Similarly a newly introduced HEIF system decreases the file size of every photo taken with the iPhone 7 and 7 Plus.
There's also more intelligent location tracking on photographs, some wonderful and emotive changes to Memories in the Photos app. Live Photos now allow you to trim the clip and even set a particular frame as the key photo, or you can set a loop or other effects as well for the photo.
Drag & Drop, improved multi-tasking and new dock on iPad
This time they introduced customizable Dock which pins your frequently accessed apps and documents for quicker and easier access no matter where you are on the iPad screen. And app Switcher also easier to use than between apps.  "makes it easier to move between pairs of active apps, used in Split View and now Slide Over."  It letting you easily copy text and pictures across to documents, folders, and many more.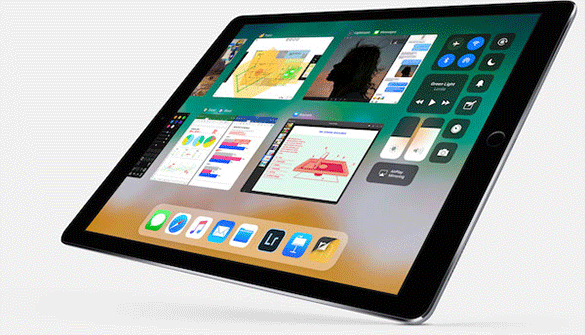 New Files app for iPad and iPhone
This is new file app bring all of your file under one app. Cloud, Dropbox, Box etc.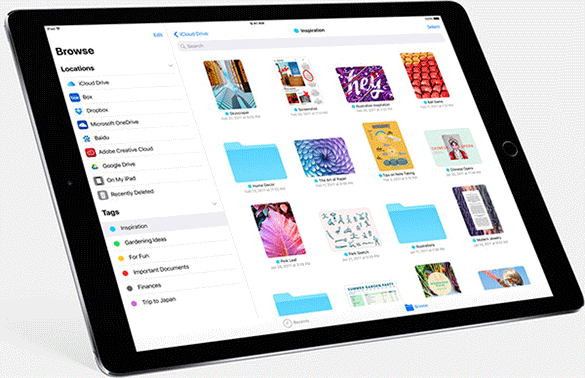 Apple Pencil improvements for iPad
This time apple bring new for apple Pencil users. It can also use for inline drawing. Pencil also now integrates with different apps, can be used with Pencil while taking in Safari,screenshots, and more.
Siri gets machine learning and translation feature
In siri also have big changes on iOS 11. Siri can now follow conversations and questions rather than offering single replies. There's also new translation feature built directly into Siri with support for English, Chinese, French, German, Italian, Spanish. As an example, it can offer word suggestions when you're typing in context to any webpage of Apple News content you may gave been reading.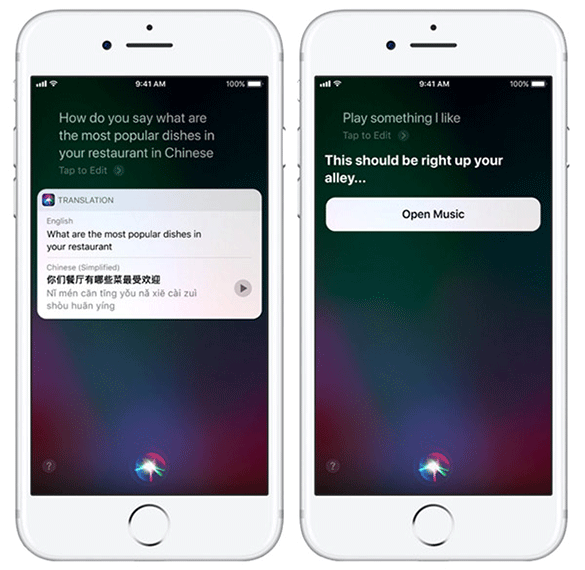 Scan and Sign with Notes app
In note apps able to Scan and sign feature which scans for a document and automatically trims out the sides and glare, allowing you to simply sign the document with Pencil and print it out.
P2P Apple Pay payments with iMessage
Finally apple integrated peer-to-peer Apple Pay payments directly into an iMessage app called Apple Pay Cash.
"They can send money and get paid right in Messages, or tell Siri to pay someone, using the credit and debit cards they already have in Wallet. When users get paid, they receive the money in their new Apple Pay Cash account."
And apple pay cash account can be use to make payments to others or even be used to buy stuff as you would normally do with your Apple Pay account.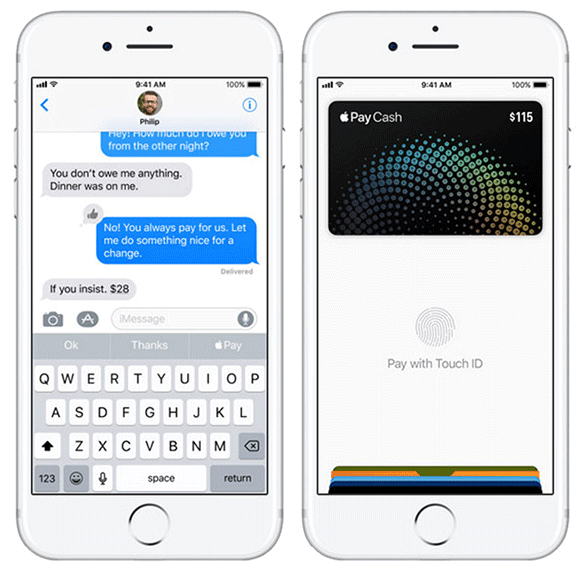 One-handed keyboard
Few months back one-handed keyboard was introduced with beta version of iOS 10. Now it included in iOS 11 "Simply touch and hold the emoji key, select one-handed typing, and the keys will instantly move closer to your thumb."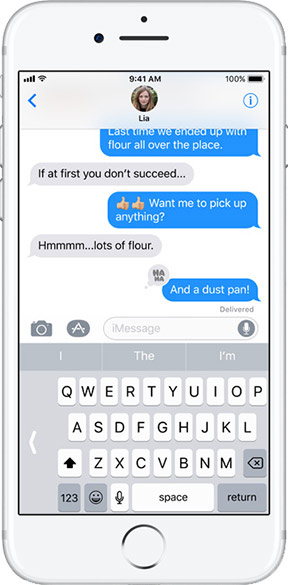 Redesigned Messages app drawer
This is very easier to use access Sticker Packs and iMessage apps from the bottom of the interface rather than having it hidden away.
Major Control Center, Notification Center, Lock Screen redesign
Control center also improved with widget-styled page which looks close to a remote control with all controls shown on one single page. You can 3D Touch on the settings to access more detailed settings. The iOS Lock Screen and Notification Center have also become one single entity with intelligent rich notifications.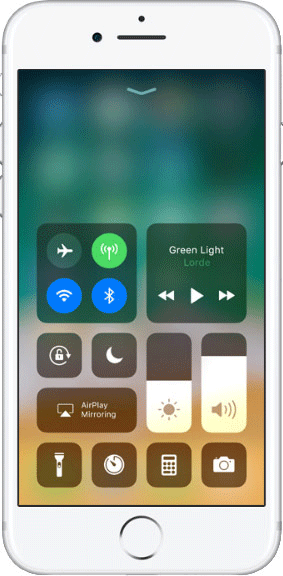 HomeKit + AirPlay 2
With the new AirPlay 2 feature you now have multi-room audio control over smart wireless speakers. Even better Apple TV owners can set up the device as a central hub for all speakers connected to it.
Apple Maps get indoor mapping
Indoor mapping support for major malls and airports with the intention to continually build out and support more locations over time. And it doesn't stop there, when navigating the app will also alert you to lane changes, and the speed limits.
DnD while driving with CarPlay
CarPlay now has a Do Not Disturb mode to prevent notifications from disturbing you whilst driving and keeping the screen of the device off. If you try to turn it on, you will be told that it's not exactly as smart move, but if you must, you can customize the feature to allow certain contacts to be able to get through to you even with the feature active.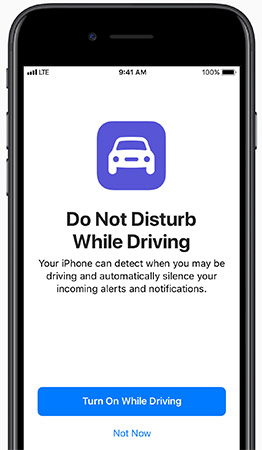 Redesigned App Store
There's also a total revamp of the App Store, which is the first time this has happened in its history. In fact, it now looks very much like the Apple Music app with its chunky text and overview pages. It will feature a new App of the Day, Game of the Day, and The Daily List sections along with of course all the other App Store features.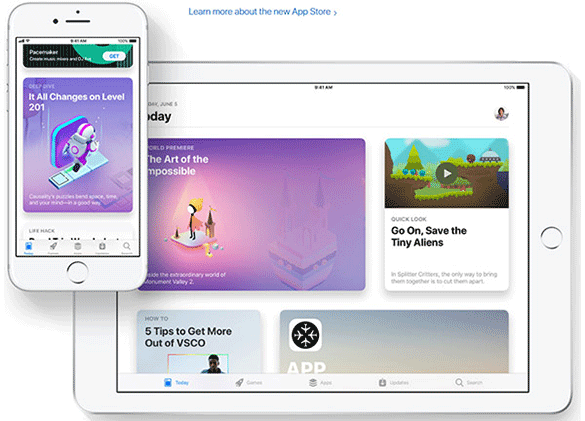 AR, Metal 2 and more

"ARKit allows developers to tap into the latest computer vision technologies to build detailed and compelling virtual content on top of real-world scenes for interactive gaming, immersive shopping experiences, industrial design and more."
There are more iOS 11 features available apart from that. Such as QuickType keyboard, new additions to Apple News app, quickly setting up a new device and more. Still we don't know when iOS 11 will release for public. But from today iOS 11 beta  is available to download registered members of the Apple Developer Program.
Follow us on Twitter, like us on Facebook and add in Google+ circle to get latest updates and iOS news via social media.