KGI's MIng-Chi Kuo, Often accurate analyst circulating that iPhone 8 rumors screen resolution will change compared to existing iPhone 7 display. And It's looks likely that the iPhone 8 screen very impressive destiny of 521ppi with 2436 x 1125 resolution. So this is a big change according to iPhone 7. Because it was 325ppi with 1334 x 750 resolution
Read: iPhone 2017 Release Expected With Wireless Charging And More Features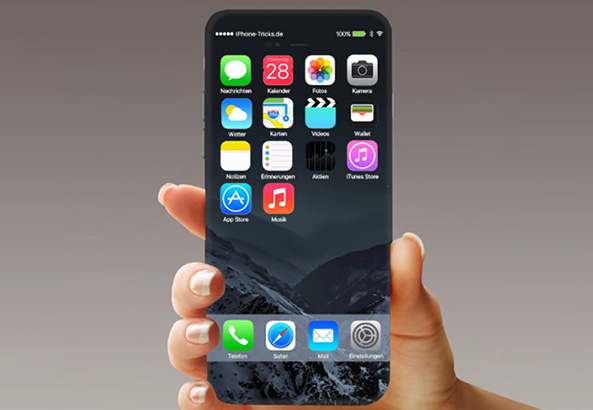 According to kuo shared, 9to5mac has concluded that new iPhone 8 will increase 3x retina scale just like iPhone 7 plus and 2x scaling like iPhone 7
Going further, we can estimate that Apple will utilize this high-density screen at 3x Retina scaling. Why? The current non-Plus iPhone uses 2x scaling which means app[s] render at 667×375 points.
For the rumored iPhone 8 specs, a 2x scaling would be nonsensical (a 1218×562 res would likely mean UI elements are far too small for comfortable interaction). At 3x, the numbers fit a lot better.
At 3x, the iPhone 8 main screen canvas would be equal to 812×375 points.
Kuo did not said any detail about what apple will use for virtual function area. Still we don't have an idea about it. Will see what apple gonna do. We expect more iPhone 8 rumors about it. So far most of are commonly accept that  apple new iPhone 8 introduce in later this year with the size of 5.8 inch and another 2 small iPhone will arrive.
iPhone 8 rumors  Touch ID Fingerprint Scanner In Favor Of 3D Facial Recognition Sensor
In this coming iPhone 8 apple will ditch the touch sensor with new 3D laser sensor being added allow user to face recognize system. According to JPMorgan analyst Rod Hall said that iPhone 8 features will full screen edge-to edge screen design and eliminate the home button as we know today.It means Touch iD may not available. Then apple finger print sensing technology build it to screen.So, 3D facial recognition system would replace as method of authentication.
This new sensor may expensive, So as we talked before they will need to spend extra expenses for these large screen and sensors. So it will cost  much as 1000$
One obvious and potentially most compelling use would be AR/VR experiences in which the user's hands and other real world objects are being scanned and integrated into a field of view provided by the iPhone mounted into a Google Daydream-like headset. This would open up many interesting entertainment and gaming experiences not available today and might give Apple something extra in an AR/VR accessory compared to Google and others.
In conclusion ,According to past apple iPhone release date, we are away from 6 month iPhone 8 release date. We expect more iPhone 8 rumors and analyst about new features.
If there is a news about phones, we will let you know as soon as possible. Follow us on Twitter , like Us on Facebook add us on your Google+ circle to get news about iOS news, jailbreak, New cydia sources and tweaks.