This is for those who jailbroken their iPhone, iPad and iPod touch with using yalu102 iOS 10.2 jailbreak. Most of yalu 102 ios 10.2  jailbreakers common problem is, yalu102 jailbreak expire after 7 days those who doesn't have developer account. Every semi un-tethred jailbreak are not stable.Those who are enjoying jailbreaking for a numbers of years and themselves get confusion about modern process.So, having continue sly re-sign the jailbreak is just annoying.In this article we will gonna help how to use yalu 102 ios 10.2 jailbroken device without resigned every 7 days.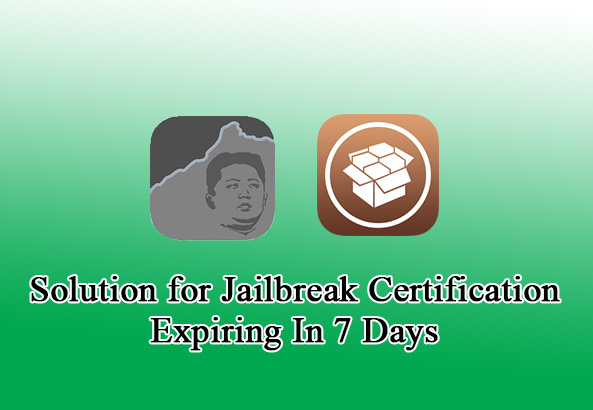 Luca Tedesco and jay Freeman already talked about auto-signing solution being in the work, Until they make some solution, there is little trick you can try to use yalu 102 ios 10.2 jailbreak  without re-sign after certification expired 7 days. In this trick, you will involve to changing the that eon jailbroken device.Therefore,remembering then the yalu102 jailbreak app was last signed is quite important. Next time when the yalu102 crashes, doesn't launch and showing that certification of the app has expired, you can get it running without having re-sign the app.
Solution For Yalu102 iOS 10.2 Jailbreak Certification Expiring In 7 Days
To do this, your device should in jailbreak mode.
Step 1: You need to go Date&time time setting on your device. (Setting > General> Date & time; ) and set Automatically Option to off.
Step 2 : Now you need to change date manually to last signed date in jailbreak app. For example. if you last signed date jailbreak app was Feb 17. You need to change the date to February 18.
Step 3 : Once to changed the date, Turn off your device and turn it on again, When it get turn on, you will be a to run the yalu102 jailbreak app and have the device put back in to jailbreak mode.
Step 4: Once the yalu102 jailbreak app has been put through its paces again and your device once again in jailbreak mode, then you can set the system date to current date and use your device.
Furthermore, you need to do this for every time when you restart your device and its back in non-jailbreak mode. Its like annoying, but this is the solution so far without having re-sign every week until jay freeman come up with good solution for this issue.
In conclusion, i hope this article help to solve that Yalu102 iOS 10.2 Jailbreak certification expiring issue. Follow us on Twitter, like us on Facebook and add in Google+ circle.