In this tutorial we will guide you to how to set Set Auto Reply text message On your iPhone when you are out of office. This concept is very useful when you are in corporate environment.
Sometime we cant answer calls and reply messages because of our urgent work.  Sometime, you are in vacation, staying in musical show with too much loud environment or while driving. In this situation, Auto reply text is very important. Because you can let you know your friends, or family that, you are unable to answer the call and will get talk to you soon. Then they will get to know that you are in busy situation. Then they will stop bothering without calling you.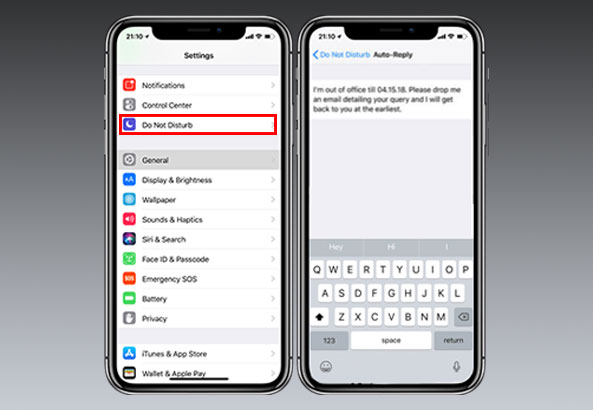 This method also very useful that you are working in office environment. If you are away for some specific time and need to point people to someone else if their correspondence is urgent, Hence lack of any overarching out-of-office feature such as incoming calls and messages on iPhone This is the way that you can stop all.
Overcome for this problem, you can set auto reply text message on iPhone anytime. This is a better solution that, people receive something asking to an out-of-office message. Lets see how to configure this feature.
How To Set Auto Reply Text Message On iPhone
Step 1: First of all tap on setting icon and go to Do Not Disturb
Step 2: You can fill the message which you want to send for caller
Step 3: Now Select all Contact from "Auto-Reply To" section.
Step 4: Under the "Phone" section you can put allow Calls From is set to No One.
Step 5:  Now back to setting app and go to Control Center > Customize Controls and activate Do Not Disturb While Driving. This will activating Do Not Disturb for callers and messages.
Step 6: You can activate out of office mode by control Center and tap the Do Not Disturb While Driving button easily.
Step 7: You need to go to Settings > Do Not Disturb and select Manually as the method of activation to ensure Do Not Disturb is not deactivated by iOS.
You may also like to check out:

If you have any question regarding to this, comment it below. We will help you. Follow us on Twitter, like us on Facebook and add in Google+ circle to get latest updates via social media.