In this tutorial we are gonna explain how to install MovieBox++ IPA on iOS 10 to your iPhone or iPad without jailbreak. This will be more useful if you are fan of original MovieBox app. Because this is a good chance to have a original MovieBox++ experience and which is essentially the same app but on steroids. MovieBox experience takes all of the benefits of the previous app and brings some additional tweaks to the experience.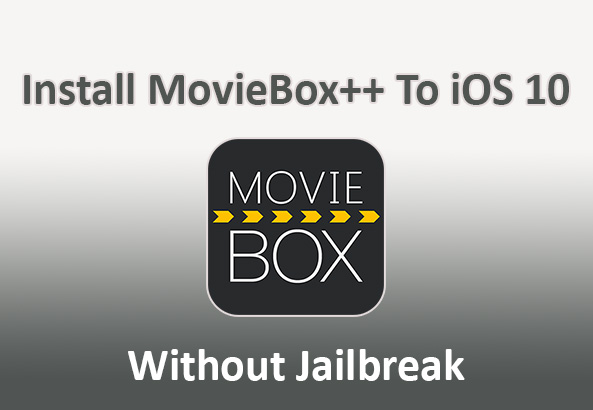 If your iPhone or iPad non jailbreak with iOS 10 and want to get install MovieBox++ , then you can follow these installation steps to add it to your iOS device.
How To Install MovieBox++ On iOS 10 Without Jailbreak
Step 1:
First of all you need to get MovieBox++ IPA and intall to your iPhone and iPad.You can get MovieBox++ IPA file from here.
Step 2:
Now you have your MovieBox++ IPA file. Now you need to install in to your iOS device.You can do it easily. If you have a windows computer or Mac, you can do it by same way. Follow below article  guideline.
Step 3:
Once you followed above tutorial you can have MovieBox++ app in your iOS device. Now probably noticed that it doesn't actually launch, but instead just crashes back to the Home screen
This is because it has been installed outside of the App Store and isn't trusted by iOS. Launch the Settings app on your iPhone and navigate to General > Profiles & Device Management.
On some iOS versions, this option might be available at General > Profile(s) & Device Management or General > Device Management.
Step 4:
Now you can Select the profile that relates to the newly installed MovieBox++ app and tap on it. ensure that the profile is classified as a trusted and safe source.
Step 5:
Now you can exit the Settings app, locate the MovieBox++ app.
Finally, you are done. Go to home screen and tap on the MovieBox++ Apps icon to run it on your non-jailbroken iPhone or iPad. In conclusion, I hope this How To Install MovieBox++ help you. Follow us on Twitter, like us on Facebook and add in Google+ circle.