Since departure of the installous. It become bad news for jailbreak community in iOS world. Because installous was the best tweak for jailbroken iOS devices. However it doesn't meant that there are no any alternatives. Appcake  is the best installous alternative. However nowadays iFunbox is the best desktop software for mac and windows to install cracked IPA to IOS device. Today, im gonna teach you how to use iFunbox to install cracked app for your  iOS device.
How to use iFunbox to add cracked apps
iFunbox is a desktop software which allow to install cracked app to your IOS device. Furthermore, It allow to access your to copy paste files from your IOS device to computer. It's a file browser. In addition,  able to copy your images to computer directly.
Some feature about iFunbox
Must Read: What is Cydia Apps and Cydia Basics
Allow to install software to your iOS device directly.
You can access root folder of your iOS device.
Allow to copy and paste image from your iPhone/iPad to your computer.
Allow to install unsigned .iPA file to your iOS device.
Able to backup installed softwares.
You can use it as desktop file manger for your IOS device.
How to use iFunbox to install Apps
I'll explain how to install Downloaded cracked apps to your iOS device with using this software. First you need to download iFunbox software from here. You can download mac and windows version application from there. Once iFunbox download and installed, connect your iOS device to your computer. Your iOS device must jailbroken. Then it will detect  your connected iOS device. Click install apps on menu bar and browse iPS file location where you downloaded then it will get install. Once it done, you can disconnect your iOS device and use your apps which you installed. If your mobile jaillbroken this may help you, Best Cydia Sources 2017 on cydia downloads
How to use iFunbox transfer photos from iPhone to computer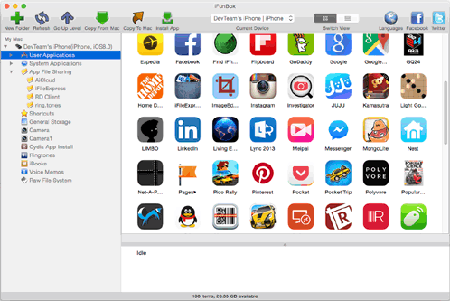 iFunbox can use as a file manger to your apple device. It helps to transfer your files to computer. You can use it as a transferring photo to computer from iOS device. As well as it allow to delete your photos.
To copy image from it follow these
Just open iFunbox and connect your iOS device. Select camera and select  which you want to get copy and right click >> copy to windows.
It will transfer your all image which you are selected.
As i said, you can use iFunbox to non jailbroken apple device also. But you cannot install cracked IPA without jailbreak. But you can able to access image and other few feature. first of all, Just give a try. If you have a question regarding how to use iFunbox, comment below. I will help you. please share in social media if this article helps to you. Follow us on Twitter, like us on Facebook and add in Google+ circle to get latest updates via social media.