There are more Cydia Tweaks available for iOS 10 jailbroken iPhone, iPad and iPod now. Most of are trying to find best Cydia tweaks for their iOS device to get new appearance and new apps to the iPhone, iPad and iPod. Apart from that we always like to add more animations to our iOS device. Good news for For those who are like animation.You can speed up iOS 10 animation by Speed Intensifier iOS 10 Cydia tweak.
6 Best Cydia Tweaks for iOS 10 Devices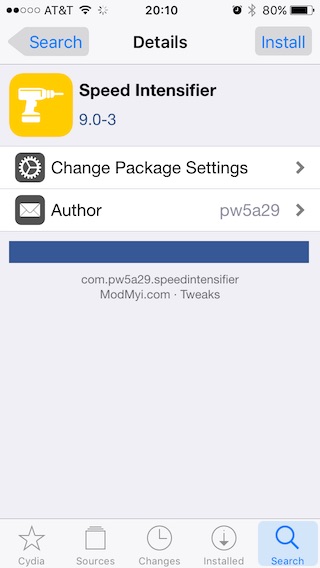 Get Best Cydia Tweaks
       Best Cydia Tweaks For iOS 10 You Should Download in 2017
       Best Cydia Sources For iOS 10 Jailbreak 2017
       48 Compatible Cydia Tweaks for iOS 10 – iOS 10.1.1 Jailbreak
In addition, speed Intensifier iOS 10 available in Cydia app store. You can use this app to speeding up the animation and transition in your device. Now it support iOS 10.If you device get slow. This apps come up with Simple, Advanced, Fusion and Spring animations for your iOS 10 device.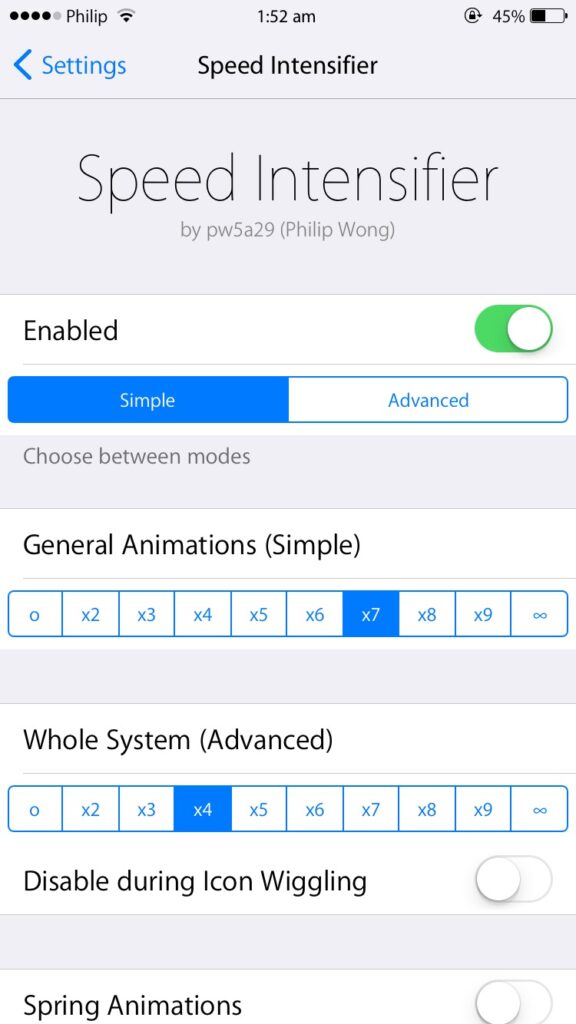 Animations support in Speed Intensifier To Speed up iOS 10
App opening/close
Loading indicators
In-App Animations
Navigation between pages and more.
All Animations are catchy on eyes in iOS 10 and all in previous versions.Animation can visible in sliding from the lock screen, launching the app and switching opening an app.You can see, sometime it take a little time to complete it.Think if you can increase this animation speed, your overall function speed up.So, you can get boost your iPhone, iPad and iPod. You need to jailbreak your iOS device first to get install Speed Intensifier to speed up iOS 10.
Jailbreak Guidence
         iOS 10.2 Jailbreak Yalu Beta 7 For iPhone 6, 6 plus, 5s And All 64bit iPad Models
         Jailbreak iOS for Install Cydia on Apple iPhone
         Pangu jailbreak iOS 9.2 to 9.3.3 for iPhone and iPad
Firstly Speed Intensifier Cydia tweak released for iOS 6 with Speed Intensifier 4.7 version.It was very famous Cydia tweak for apple iPhone 5 and iPhone 5s previously.After that it released for iOS 8 with Speed Intensifier 8.3-2 version.Next It support iOS 9 with Speed Intensifier 8.3-2. Finally it released iOS 10 with Speed Intensifier 10.0-9.
Speed Intensifier Work with iOS 6,7,8,9,and specially speed up iOS 10. Once to get installed this tweak, it offers different type of animation. Speeds depend on what you need.SO, you can customize as your needs.You can get tweak free from BigBoss repository for your iOS device.
In conclusion , just install this free Cydia tweak and try it.You can speed up iOS 10 with using Speed Intensifier easily. If this article interesting to you share with others and follow in Facebook and Twitter to reach new article easily.