In this tutorial, we will explain how to download iFile IPA and install on your iOS 10 iPhone and iPad. No jailbreak required for this iFile Installation. If you have any experience in jailbroken iOS device. You already know about specialty of apps like iFile. To download iFile and install to your iOS device, You need to do sideloading IPA apps using Cydia impactor to install it to your iOS device.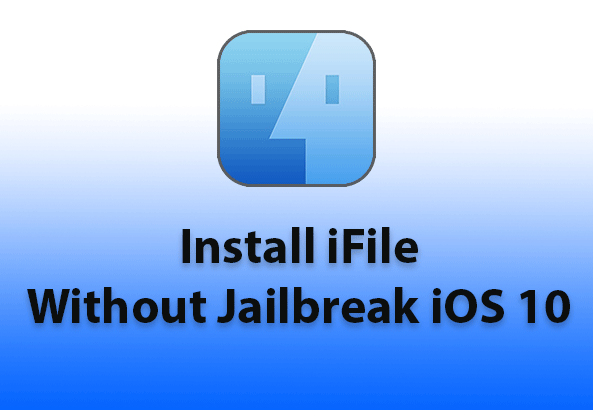 This method is more and more experiences that were previously only available via Cydia on jailbroken devices are now becoming accessible to non-jailbroken users as well. This fabulous iFile app is also able to install non jailbroken iOS devices now. You can follow below guide to download iFile  and slideload to your non jailbroken iPhone and iPad.
How To Install iFile On iOS 10 Without Jailbreak
Step 1: First of all you need to get download iFile app IPA file. You can download it here.
Step 2: Now you need to get install iFile IPA file to your iOS device. It's time to actually think about getting the app installed on your non-jailbroken device without the use of the App Store, and,                  of course, without the use of Cydia. You can do it by using Cydia Impactor. You can simply follow guides linked below for sideloading iFile to your device.
Step 3: I hope you follow above link and sideload iFile to your iOS device. Now iFile app on your home screen. You'll probably be wondering why it won't actually launch? You need to trust the certificate first to allow the iOS system to invoke the app.
Step 4: launch Settings > General > Profiles & Device Management on the device.Some iOS veriosn this option might be available at General > Profile(s) & Device Management or General > Device Management. Find that certificate relating to the recently installed iFile app, tap on it, and then tap Trust and Trust again.
Step 5: Now you can able to launch iFile app from your home screen and enjoy iFile on a non-jailbroken device.
Install without Jailbreak: 
There is a something you should know. If your iOS device non jailbroken, iFile app won't give full experience.Because, non jailbroken device doesn't have full root access folder. Therefore it will limited ability to write files but it's only for some specific folders. However you can get some experience with it. Just give a try and see how work it is for your non-jailbroken iPhones and iPads.
In conclusion, Follow us on Twitter, like us on Facebook and add in Google+ circle to get latest updates via social media.