Do you want to get latest modified apps to your newly updated iOS 11 devices ? Today we will guide you to install Tweakbox for iOS 11. No jailbreak require for this Tweakbox app installation to iPhone, iPad and iPod touch devices. This is the best experience to get outside of Apple's official App Store apps. Tweakbox helps to get awesome experience in newly modified apps to your iPhone, iPad and iPod touch devices with many more features.
What is TweakBox
Tweakbox is an app installer which allow to get tweak and modified apps which you can normally get from Cydia without jailbreak your iPhone, iPad, or iPod Touch. This is great tool because, currently there is no any jailbreak for iOS 11. Therefore you can use this Tweakbox for iOS 11 and get all tweaks and modified app which provide for jailbreak users in Cydia app. Tweakbox can use for Cydia alternative for iOS 11.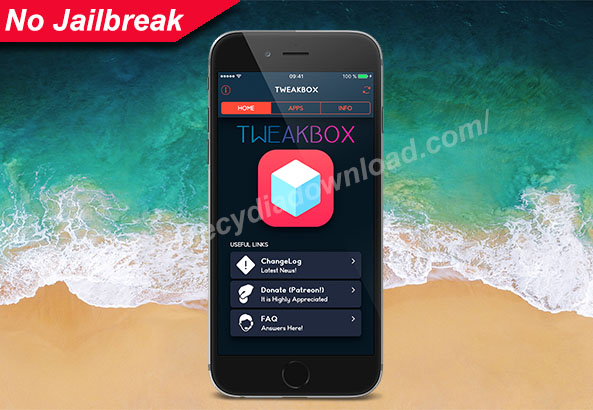 What are TweakBox Features For iOS 11
No jailbreak needed for iOS 10 and iOS 11
Easy to install and use
User-friendly interface, making it very easy to use
Easy to delete if you no longer need it
Flash Apps – Apps that will never be in the iOS app store
App Store Apps –Paid apps free for downloading
TweakBox Apps – Best apps which available in Cydia store
Tweaked Apps – Most popular apps in the iOS app store, such as Phantom for Facebook, Instagram and many more, modified with more functions.
Modified Games –There are modified games, such as unlimited lives and unlimited coins, all for free. Never pay for another in-app bonus again
This Tweakbox now support with latest iOS 11 version. This app is a quick efficient installer with giving access to a range of modified apps and which wouldn't normally be offered under apple App Store rules. Let see how to install this awesome Tweakbox app to your iPhone, iPad and iPod touch devices without jailbreak.
How to install Tweakbox for ios 11 iPhone, iPad and iPod touch devices.
Hope your device run with iOS 11, we are going to install Tweakbox app via TweakBox official website. Lets go head and install Tweakbox app for iOS 11
Step 1: First launch safari and visit tweakboxapp.com. you can look in to information about the experience being provided. once you are done, Tap on Download App button.
Step 2: Now you can start installation process. It will Install Profile page showing details about the installation required. Tap on install in the top-right corner and then enter your Passcode in to the device if prompted. This will ask for Touch ID or Passcode if you setup on device.
Step 3: Installation proceed after enter the passcode. This will invoke an action sheet from the bottom of the screen and tap Yes and tap on the Install button again to get it done.
Step 4: You are almost done with installation process now. Tap on the Done option to get out of that particular screen.
Step 5: Once you done with hitting done button you will back to safari browser you came from. Just close it and run Tweakbox app on home screen.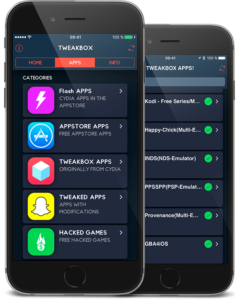 Download iOS 11 Support apps list below
Now you are done with installation. Hope you are successfully Installed Tweakbox for iOS 11. If you have any question regarding to this, comment it below. We will help you. Follow us on Twitter, like us on Facebook and add in Google+ circle to get latest updates via social media.